Entrance, Garden and Estate Gates
Your property needs to be decorated in such a way that people know it is yours. You may want to have gates in place as a way of marking your territory or providing security to ensure people aren't going to enter until they have been given permission.

At Best Metal Work, we work to produce stunning entrance, garden, and estate gates. We have worked with clients for more than 30 years and listen to the designs that you wish to have produced. This is your chance to have the gate you want, not the gate that everyone else has. Your personality can come through within the designs and this will allow you to have something aesthetically pleasing produced for your property.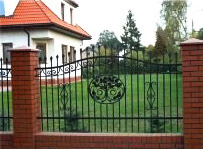 There are many different types of gates that are available and we can meet you on premise to discuss the options. Choose from swing, sliding, and folding gates. This will allow you to have the functionality that you desire. From there, it may be possible for you to automate as a way of controlling the security on your property even further.